Teledentistry uses the latest technology to help patients get the dental care they need, wherever they may live. Instead of disrupting a busy schedule to show up to an office and wait to be seen, patients can now set up dental appointments online. And in some cases they can get dental consultations, diagnosis, prescriptions filled, and even receive treatment, diagnosis all from their phone or computer.
What is Teledentistry?
Teledentistry is a way for patients to communicate with dental professionals virtually using a video platform like Zoom or simply over the phone. It gained popularity during the pandemic, when many dental practices were closed.
It is still recommended that patients see their dentist in person twice a year for a checkup and professional cleaning. And obviously, patients cannot get x-rays or have cavities filled at home. But teledentistry offers a way for providers to communicate with patients about things like an initial diagnosis or follow-up after a dental procedure.
What Are the Benefits of Teledentistry?
Convenience. Teledentistry allows dental patients to receive treatment without leaving their home. For those living in rural areas, or who have difficulty getting around, virtual appointments are often the best way to get important dental needs met.
Speed. When routine appointments roll around, patients appreciate efficiency. Teledentristy is quick because rudimentary information has already been communicated, like:

Dental history
X-rays
Patient information from a previous dental care provider

Accessibility. Sometimes it's hard to make scheduled appointments on time. Patients can run into traffic, get caught up in their workload, or get delayed by a flat tire on their vehicle. With teledentistry, patients never have to worry about the unpredictable getting in the way of keeping their dentist appointment.
Accuracy. The accuracy of teledentistry comes from establishing an open line of communication between the patient and Doctor on file. It's a matter of cutting out a middle person (such as an office receptionist taking a phone call) relaying messages. Instead, direct correspondence is traceable and easy to reference. Although being able to speak directly to someone in real-time is valuable for getting questions answered right away, having a file online is the most accurate option.
How Does Teledentistry Work?
Patients electronically send records, current updates on their dental health, and photos or videos of any problematic areas they may have. Communicating with a dentist virtually allows a patient to ask questions and get a professional opinion, while freeing up time to enjoy their life, instead of spending so many hours going back and forth to dentist appointments.
For patients getting started with teledentistry:
Patients can simply ask their dentist if they offer virtual appointments. If a patient needs to switch to a dentist who does offer appointments and treatment virtually, they can Google teledentistry or use our online search tool for a long list of providers that offer virtual appointments.
Get the app or visit the most popular teledentistry platform for information on virtual consultations, remote monitoring, and even options for house calls.
During the online appointment, the dentist will explain how to proceed. Patients may be asked to take a photo or video of their teeth, gums, and mouth to send to their dentist. Be sure to keep the phone steady, ensure the flash is on so the video isn't too dark, and remember to review their video before sending it. The patient will want to ensure their recording is well documented. The dentist will examine the patient's video to ensure they're getting the proper diagnosis and treatment they need.
Teledentistry provides help for anything as minor as a toothache, or as serious as a chipped tooth. Keep in mind, for emergencies, visiting a dentist in person is the best option. For major problems the dentist will need to see the patient as soon as possible, but can often provide guidance for relief in the meantime. In the circumstance a patient needs medication, it will be prescribed, then delivered to the individual's door.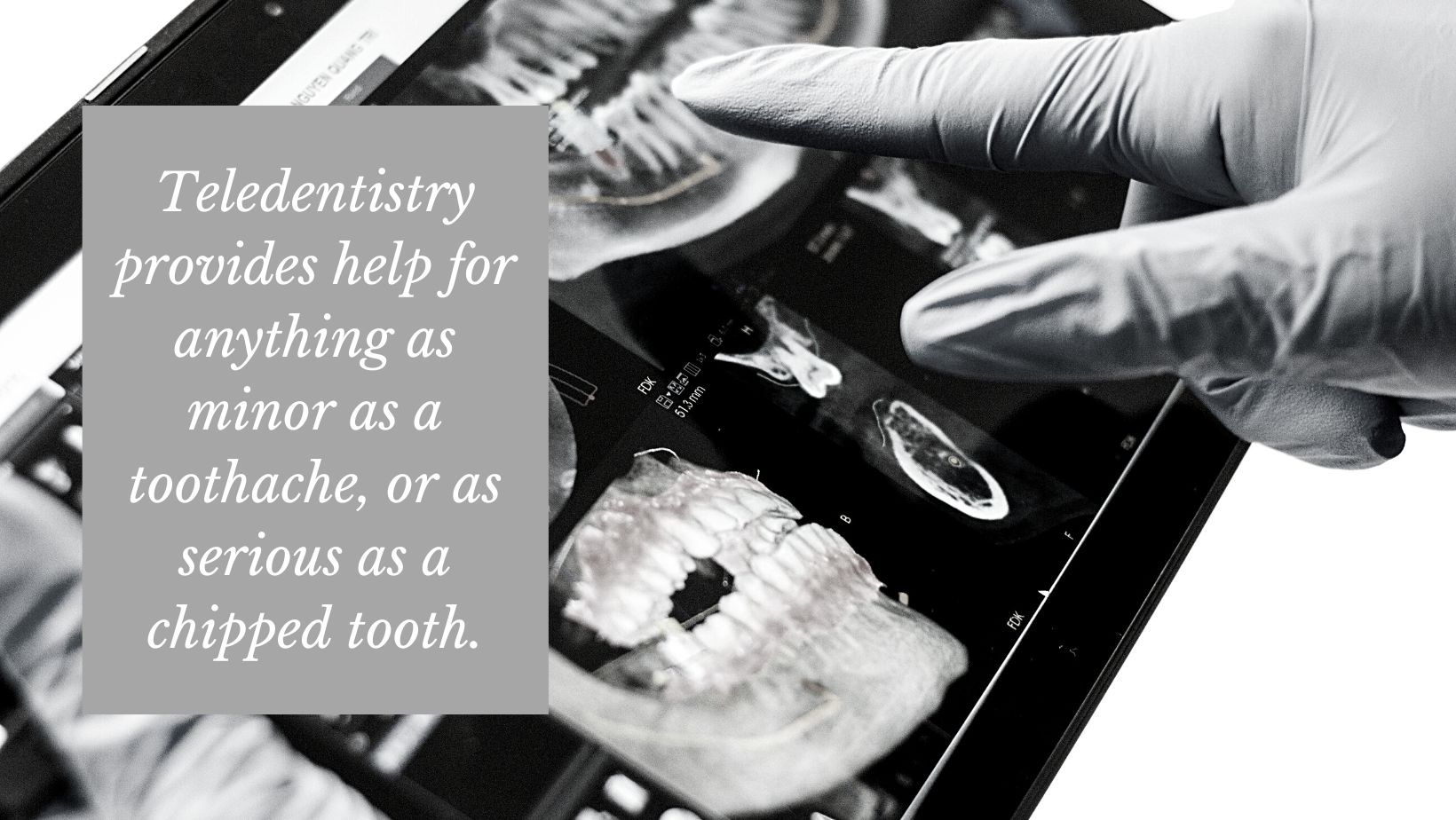 Just like any other dental issue, patients may need more than one appointment to fix their ailment. One of the many great benefits to teledentistry is being able to make follow up appointments easily online.
Is There Evidence That Teledentistry is Helpful?
Yes, teledentistry has been proven to be very helpful. Taking care of dental needs electronically is especially effective because both patient and Doctor can reference the same file. The most accurate and effective way to keep track of an ongoing treatment plan is through teledentistry. Evidence of 6 case studies prove teledentistry is helpful.
Traditionally, a patient will go to their dentist for an initial assessment. Dental assistants take x-rays, ask questions about health history, and look for cavities and any other basic dental issues.
When patients take advantage of teledentistry, their dentist already has that information easily accessible for the next appointment. This means patients don't have to keep driving to their dentist's office, interrupting their busy schedule to fit visits in, or leave work early before the dentist's office closes.
Teledentistry is great for most typical dental problems. But, if a patient is experiencing pain, infection, or inflammation it's best they see their dentist face to face to get a thorough examination done.
When is Seeing A Local Dentist Better?
In the case of an emergency, getting in to see the nearest local dentist immediately is the best option for a patient in need. Whether they have problems from a missing tooth, a severe toothache, or an infected tooth they'll need to be seen in person for the best care.
Communicating with a dental care provider may require patients to take a video in order to explain what their issue is. Sometimes this can fall short. It's possible a Doctor won't be able to see a patient's problem area thoroughly enough. Videos can be too dark, too bright, or too pixelated. Being in person helps the local dentist assess the problem without any setbacks.
Whether patients live in a rural area or in the city, driving to and from dentist appointments is kind of a pain. No office compares to the comfort of a patient's personal home, and teledentistry allows the patient to get the care they need without the hassle of showing up to the office for every single visit. It's a good idea to keep a relationship going with a nearby, local provider for in-person treatments and emergencies. For ongoing everyday dental care patients and dentists love the option of teledentistry.