Cosmetic dentistry includes a number of procedures that can help patients get a whiter, brighter, smile. This can include teeth whitening, tooth restoration, veneers, and more. The biggest challenge with cosmetic dentistry is finding the right professional to do it.
Some dentists advertise a specific focus in cosmetic dentistry. Others might have a different focus, such as family dentistry. Still others might just serve a specific town or neighborhood. So, is it wise to visit a dentist with a focus in cosmetic dentistry? Or can any dentist help with cosmetic services?
Yes, a general dentist can do most procedures that are considered "cosmetic." But there are times when it will be worthwhile to seek out someone whose practice is more focused on or dedicated to those types of procedures. Depending on what is needed, a patient might need to search for a general dentist, cosmetic dentist, or even a prosthodontist.
Cosmetic Dentistry vs. General Dentistry
Cosmetic dentistry is a general term used to refer to dental work that improves the appearance of teeth, gums, or bite. It focuses on the improvement of how the smile looks in terms of color, alignment, shape, size, and overall smile appearance. Some of these procedures include teeth whitening, veneers, and tooth restoration, among other things.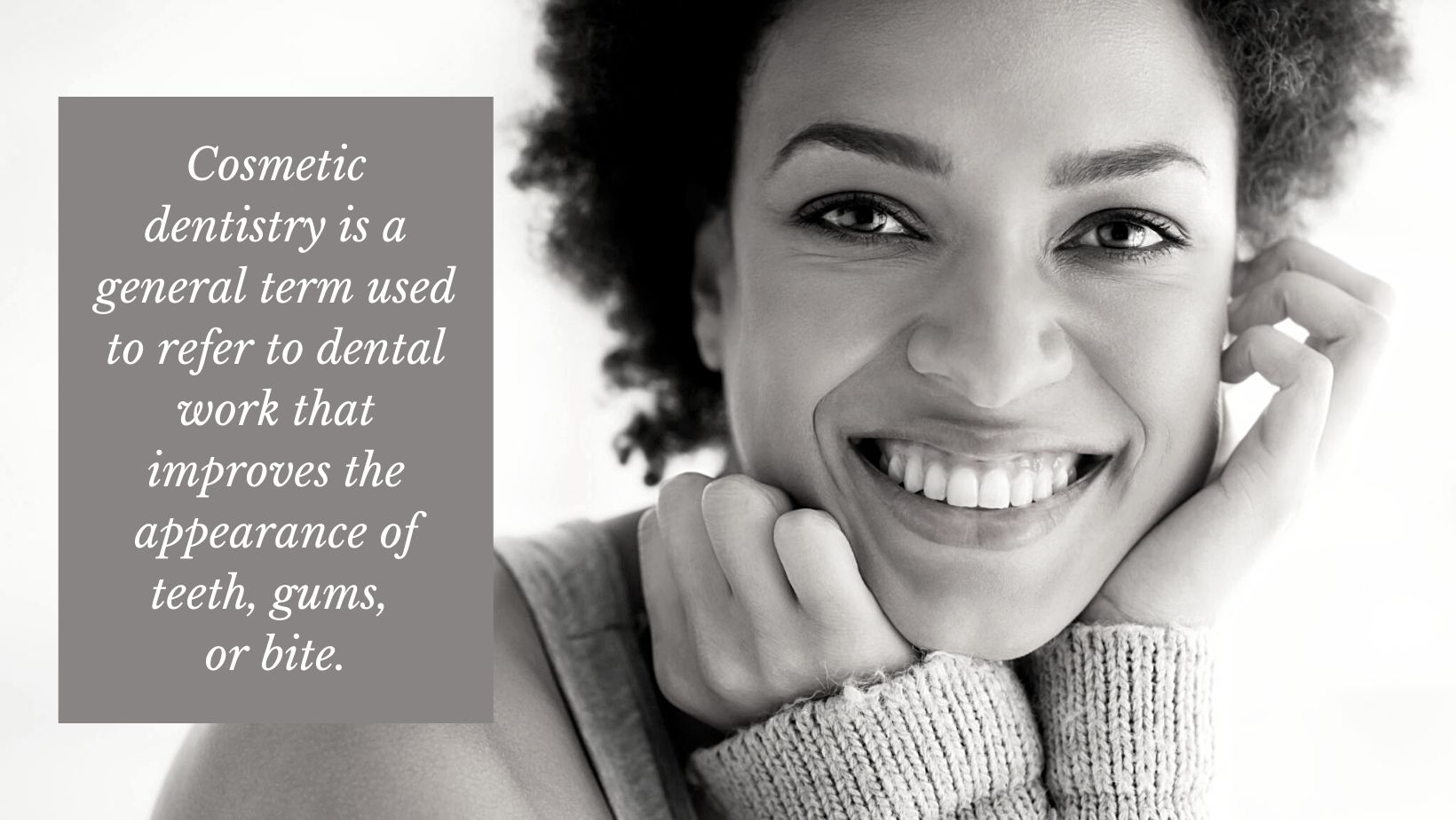 General dentistry refers to someone who diagnoses, treats, and manages all oral healthcare needs. These are more health-related things like gum care, tooth care, pain, oral hygiene, and preventative education.
Typically, a general dentist and a cosmetic dentist both perform general treatments such as regular checkups, fillings and dental crowns, fixing cavities, repairing teeth, cleaning, and whitening. But there are some things to consider that set them apart.
Training Required
Both general dentists and cosmetic dentists are required to undergo training, as well as possess the degrees and licenses.
General dentists are required to complete a doctoral degree in their field, and become licensed to provide dental health care in their state. Some dentists will even complete a residency program in order to become more specialized in their field.
Similarly, cosmetic dentists must complete a doctoral degree, whether it be a Doctor of Dental Medicine or Doctor of Dental Surgery, and participate in accredited programs that incorporate specialized training in cosmetic dentistry. Cosmetic dentists must also complete a postgraduate program in cosmetic, aesthetic, or restorative dentistry.
Prosthodontists require additional training because they specialize in handling dental and facial problems that involve restoring missing teeth and jaw structure. These types of dentists complete dental school plus at least three additional years of advanced training and education in an accredited prosthodontic graduate program. 
What They Do
Going to a cosmetic dentist provides many options for those having issues with their smile. Cosmetic dentistry is an area of focus that can help with many things, ranging from whitening, to veneers, Invisalign, and even mouth reconstruction.
When it comes to the smile's appearance, teeth whitening is a great way to make the smile brighter. For professional whitening, cosmetic dentists use whitening technology in order to improve the appearance of stains on the teeth.
Veneers are custom-made shells that cover the tooth in order to improve appearance. This can help with color, shape, size, or length.
Invisalign is a way to straighten teeth with plastic trays that can be taken out when eating and drinking. What makes Invisalign more appealing than traditional metal braces is how it's far less noticeable.
Basically anything that'll make someone more confident in their smile is done by cosmetic dentists.
The Costs
That being said, cost is an important step to consider when it comes to searching for a cosmetic dentist vs. a general dentist. Generally speaking, the prices vary based on the materials used and the doctor's training.
Cosmetic dentists tend to be more expensive based on the work they provide. They'll often suggest having dental work done with materials that preserve the look and aesthetics of the smile, which can cost a bit more due to the superior materials.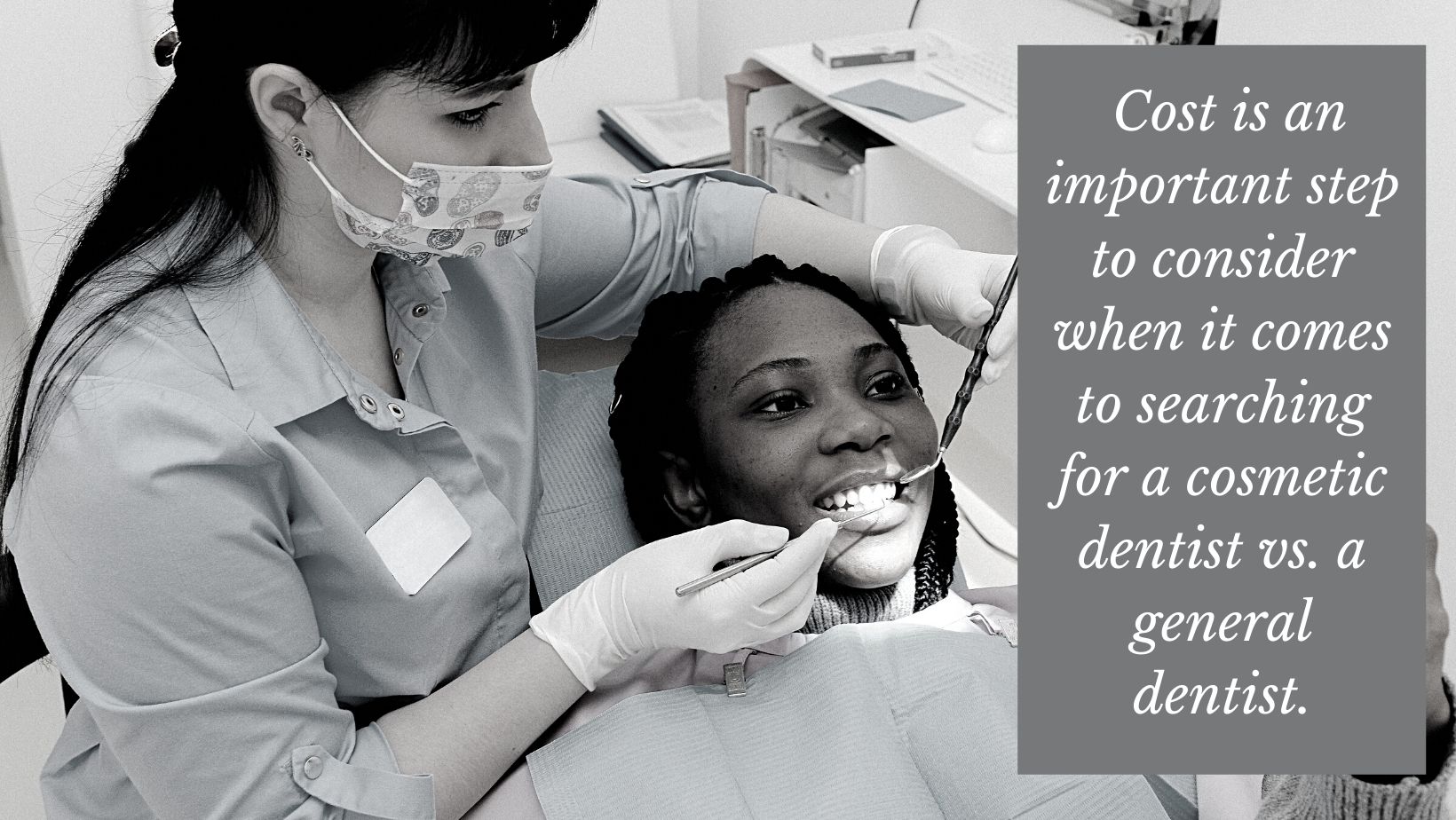 Considering costs is a large part of deciding where to go and what to get done. Deciding if a cosmetic dental procedure is worth it depends on the person, but oftentimes these kinds of procedures can bring confidence in one of the first things someone notices about a person.
When to choose each
Generally speaking, a general dentist can help with:
Fillings
Dental Crowns
Tooth Extractions
Dental Implants
Braces
Whereas a cosmetic dentist or prosthodontist is better suited for things like:
Teeth Whitening
Teeth Bonding
Porcelain Veneers
Porcelain Crowns
Smile Makeovers
Dental Implants
Dental Bridges
Dentures and Partial Dentures
Full Mouth Rehabilitations/Reconstructions
That said, a general dentist can, and often does, many of the things on the cosmetic dentistry list, especially in rural areas, where dentists are a bit fewer and far between. Patient's who already have a general dentist should ask if they do these procedures before seeing a cosmetic dentist. The Dental Health Society also makes it easy to find a dentist by booking an appointment online. For more complex cases, going to a cosmetic dentist might be a better idea as they might have more experience than a general dentist.
Prosthodontics
While cosmetic dentists are general dentists who have special training with the appearance of the smile, prosthodontists are specialists recognized by the ADA who have obtained a postgraduate certificate in prosthodontics, making them more qualified than both general and cosmetic dentists.
Prosthodontics generally specialize in more complex restorative and cosmetic cases. They work on things like diagnosis, treatment planning, rehabilitation, and maintenance of a patient's oral function. This pertains to comfort, appearance, and the general health of patients with clinical conditions associated with missing or deficient teeth and/or oral and maxillofacial tissues. So, prosthodontics are more focused on treating missing teeth rather than teeth that are still there.
While some procedures that prosthodontics do can be more costly, they generally fall in line with the pricing of dentists.
The Bottom Line
Overall, cosmetic dentistry is not a specialty, but rather just an area of focus. When deciding whether to see a general dentist rather than booking a cosmetic dentist, it's important to consider what type of procedure is being done.
Start to search for a dentist who can do what's needed, and if they run into something they can't do, they'll refer to a specialist that can.