Dental implants are artificial teeth that replace missing ones. Getting implants involves surgery that is moderately invasive, and not all dentists can perform it. It is important for patients considering implant surgery to understand what kinds of dentists do implants. General dentists, oral surgeons, maxillofacial surgeons, periodontists, and prosthodontists may all have the necessary qualifications.
Given the variety of options, who is the best one to do an implant? A good first step is to schedule a consultation with one's regular dentist. They will help patients explore all the possible treatment options so that they can choose the one that is best for the patient's individual needs.
Why Do You Need a Dental Implant? 
Dental implants have become an increasingly popular solution for patients with one or more missing teeth. Implants provide a permanent replacement for missing teeth. They are often chosen over dentures or bridges because they look and feel more like real teeth. Implants also tend to be more durable than other options. 
Having a tooth missing does not just mean an incomplete smile. The space can make it hard to eat and talk. Over time, the other teeth can drift out of alignment causing an uneven bite. Jaw pain and even bone loss can result. It is important to replace missing teeth, either with a removable appliance like dentures, or something more permanent like an implant.
Dental implants provide a permanent base for a single crown, or as an anchor for bridges or dentures. They typically consist of three parts: A post, an abutment, and a custom crown. The post replaces the root of the lost tooth. The crown sits atop the abutment, which joins the crown to the post.
The Implant Procedure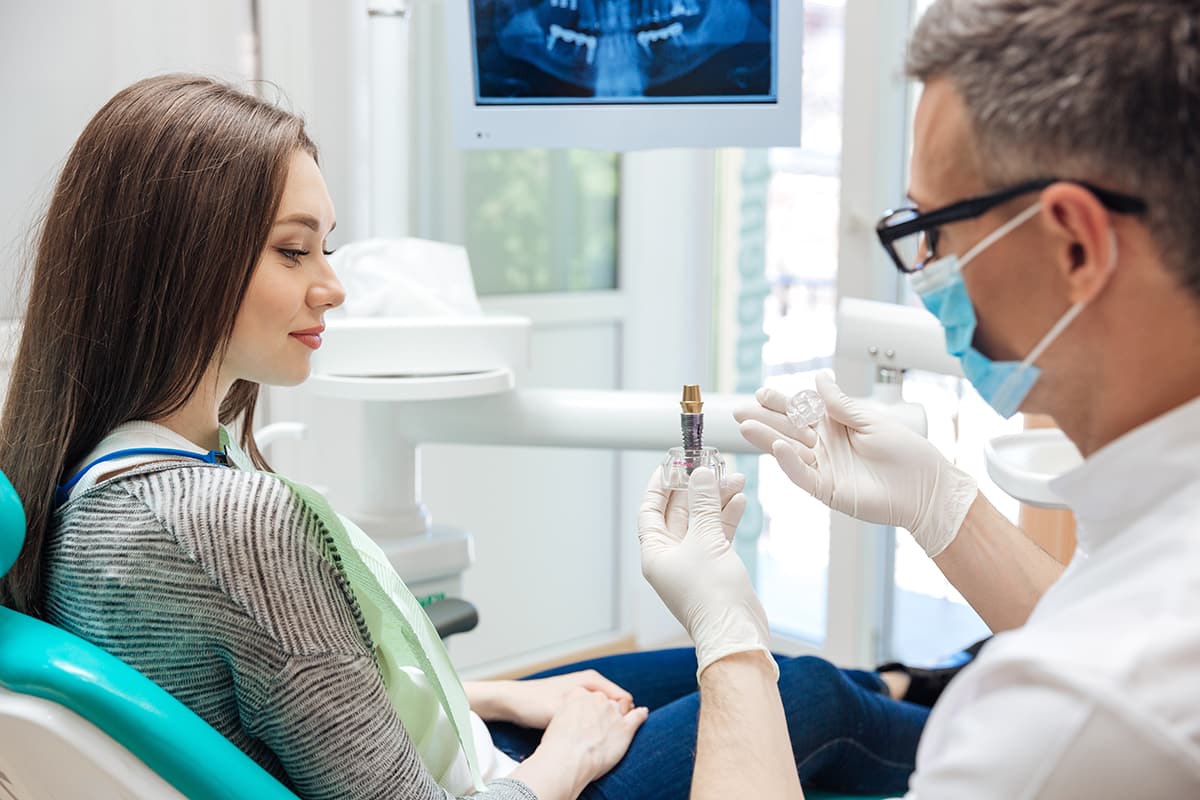 Dental implants require a somewhat invasive surgical procedure. Following the administration of anaesthetic, the dentist or surgeon screws a titanium implant post into the patient's jawbone. After 10-12 weeks of healing, the gum heals and the bone fuses to the post. Once the surgical site has healed and the abutment has fused to the gum tissue, a custom crown is fitted to the abutment. This crown screws into the abutment. It provides the patient with a tooth just as strong as their original.
Prior to the implant surgery, patients might need a bone graft. This is necessary if they are missing significant jawbone tissue or the structure of the jaw is too weak to support the implant. Bone grafting will add some time to the healing process.
The implant procedure usually means at least a few visits to the dentist with several weeks for healing in between. Patients feel little pain until the anaesthetic wears off, and dentists typically recommend over-the-counter pain relievers for pain management.
The Kinds of Dentists Who Might Do an Implant
Because different kinds of dental professionals can do implants, it is important to know a little about their qualifications. This will be helpful in understanding why a specific dentist might be recommended.
Dentist
When a patient has a missing tooth, their regular dentist will discuss options for replacing it. If a dental implant is a good option, they will recommend the professional they feel is best to handle the dental implant procedure. This usually will mean referring patients to a specialist for the treatment, although sometimes they perform the procedure themselves. Larger dental practices may house a number of different dental professionals, so patients can get the entire implant procedure done at one location. Dentists with smaller practices will refer patients to specialists elsewhere. 
Most dentists are qualified to perform the surgery and indeed may do so. But some may lack the specialized equipment necessary to do the procedure in their office. Others may simply choose to focus their work on general dentistry. Most dentists have a number of colleagues that they will refer patients to for specialized care. 
Oral or Maxillofacial Surgeon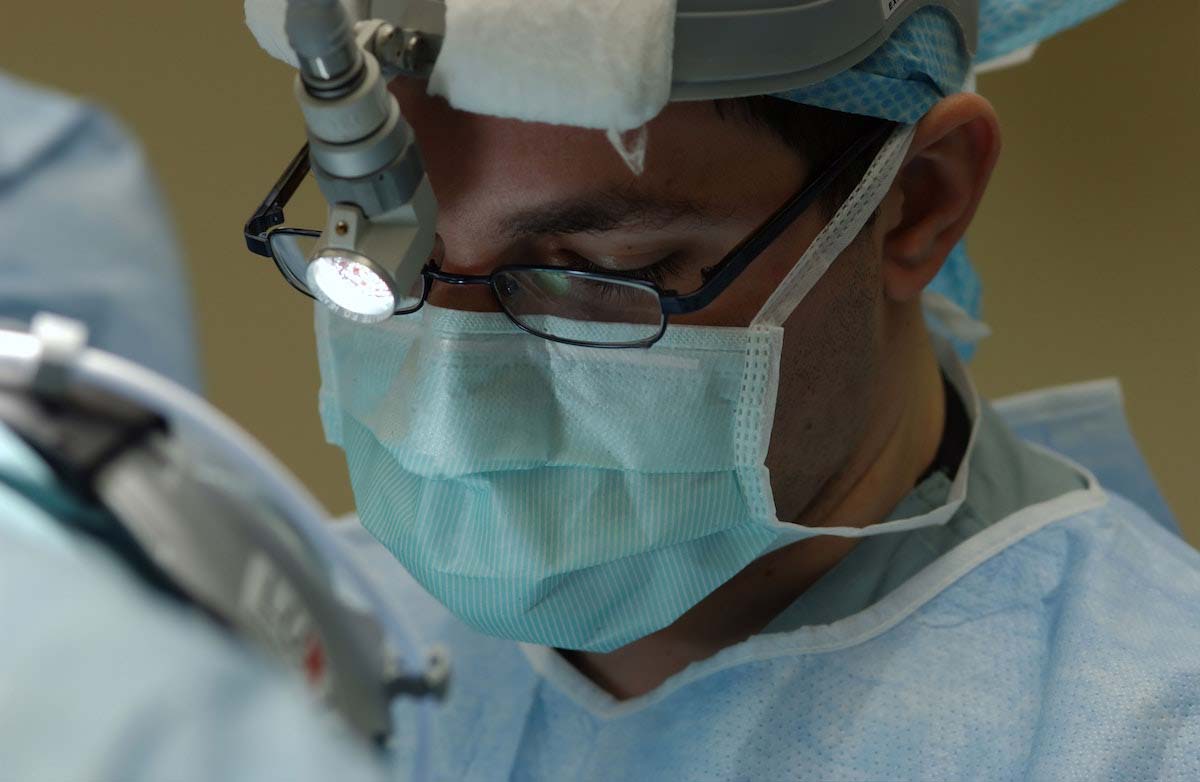 The most common choices for a dental implant are either an oral surgeon or maxillofacial surgeon. All oral and maxillofacial surgeons are trained as general dentists before returning to school to study their specialty.
Oral surgeons perform a number of different surgical procedures such as wisdom teeth extraction and root canals. They also routinely fit patients for dentures and dental crowns.
Maxillofacial surgeons can do these things too. But their advanced training gives them the qualifications to perform additional surgical procedures. They treat TMJ, facial, oral, and neck cancer and specialize in face and jaw reconstruction. Patients who need a bone graft prior to implant surgery will often be referred to a maxillofacial surgeon.
Periodontist
Periodontists focus on gum health. Although many can also perform implant surgeries, it is not their speciality.
Depending on a patient's needs, a periodontist or gum surgeon may provide a dental implant. If, for example, periodontal disease is the cause of the patient's missing teeth, they may be the best choice. Additionally, even if someone else does the implant surgery, a gum specialist might get involved if there are complications during the healing process. For example, if the implant site is not healing properly or becomes infected, then consulting a periodontist may become necessary.
Prosthodontist
The final step of implant surgery is the placement of a custom crown if the implant replaces a single tooth. A bridge or dentures replace multiple missing teeth and can be fitted to a single implant.
Some people have this step completed by the same dentist who did their implant surgery. Others return to their regular dentist for the final stage of crown placement. Another option is a prosthodontist. Prosthodontists are dentists specializing in tooth repair and replacing missing or damaged teeth with artificial devices. Patients may seek the services of a prosthodontist for their crowns, or they may find that a prosthodontist is the best choice for the entire procedure.
Finding the Right Dental Implant Specialist 
Replacing missing teeth is important for overall dental health and dental implants are a popular choice. General dentists and various specialists can all be qualified to do dental implant surgery.  Your dentist will sit down with you to discuss various options and refer you to a specialist that is right for you and your particular situation. 
If you need help finding a dental professional near you, make an appointment today.