There's no getting around it—dental implants are expensive, and they're rarely covered by insurance. You might be wondering if you should bite the bullet and make the investment now—or will dental implants get cheaper if you wait? And if the price stays the same or even goes up, is there some other way to find cheap dental implants?
There's no way to know exactly what the price of dental implants will do in the future, but that doesn't mean you can't find something you can afford. Where you get them might be a bigger factor in the cost than when you get them.
The High Cost of Dental Implants
A lot of innovative products start out at very high prices. Once they become more common, they get more affordable. Think about things like flat-screen TVs or laptop computers. Early on, they were priced very high. People had to pay extra for something so new and special.
As dental implants have become more common over the last few decades, their cost has come down a bit. There are more manufacturers making them and more qualified dental professionals who can perform the surgery. The price can still fluctuate somewhat due to various factors, but there's no expectation that it will go down dramatically. Here are a few of the reasons why:
Materials Cost
The preferred material for dental implants is a titanium alloy, because of its exceptional durability. Titanium is an expensive metal. Like gold or silver, its price on the open market fluctuates, but not enough that it will have an impact on the cost of a dental implant.
Implants Last a Long Time
Low cost is sometimes tied to disposable or short-lived products, and dental implants are anything but. Titanium implants are made to withstand the pressure of chewing for at least 10 to 20 years. Manufacturing something this durable and long-lasting comes with a higher price tag.
Expertise Matters
While some regular dentists are trained in basic dental implant placement, an oral surgeon or maxillofacial surgeon is usually recommended. These dental professionals spend four to six years after dental school in surgical residency training to become certified. They perform all kinds of dental and facial surgery in addition to dental implants. That additional expertise can result in more successful outcomes, and it understandably comes at a higher cost.
Where to Find Cheap Dental Implants
Dental implant's material and an oral surgeon's expertise make the average cost of an implant for a single tooth about $4800 on the open market. Waiting until dental implants get cheaper is not likely to change that. But for patients who are willing to travel, it's possible to get the same expertise and the same materials at a lower price. Here's why:
Overhead
An oral surgeon who is doing dental implants needs expensive equipment and an office to work in. They will also hire trained, qualified staff, to assist with patient care and help run the office. Depending on where they practice, the costs of salaries, rent, utilities, and even taxes can be wildly different. For example, oral surgeons in Manhattan or Miami will most likely have a much higher cost of doing business than those in Tulsa or Chattanooga.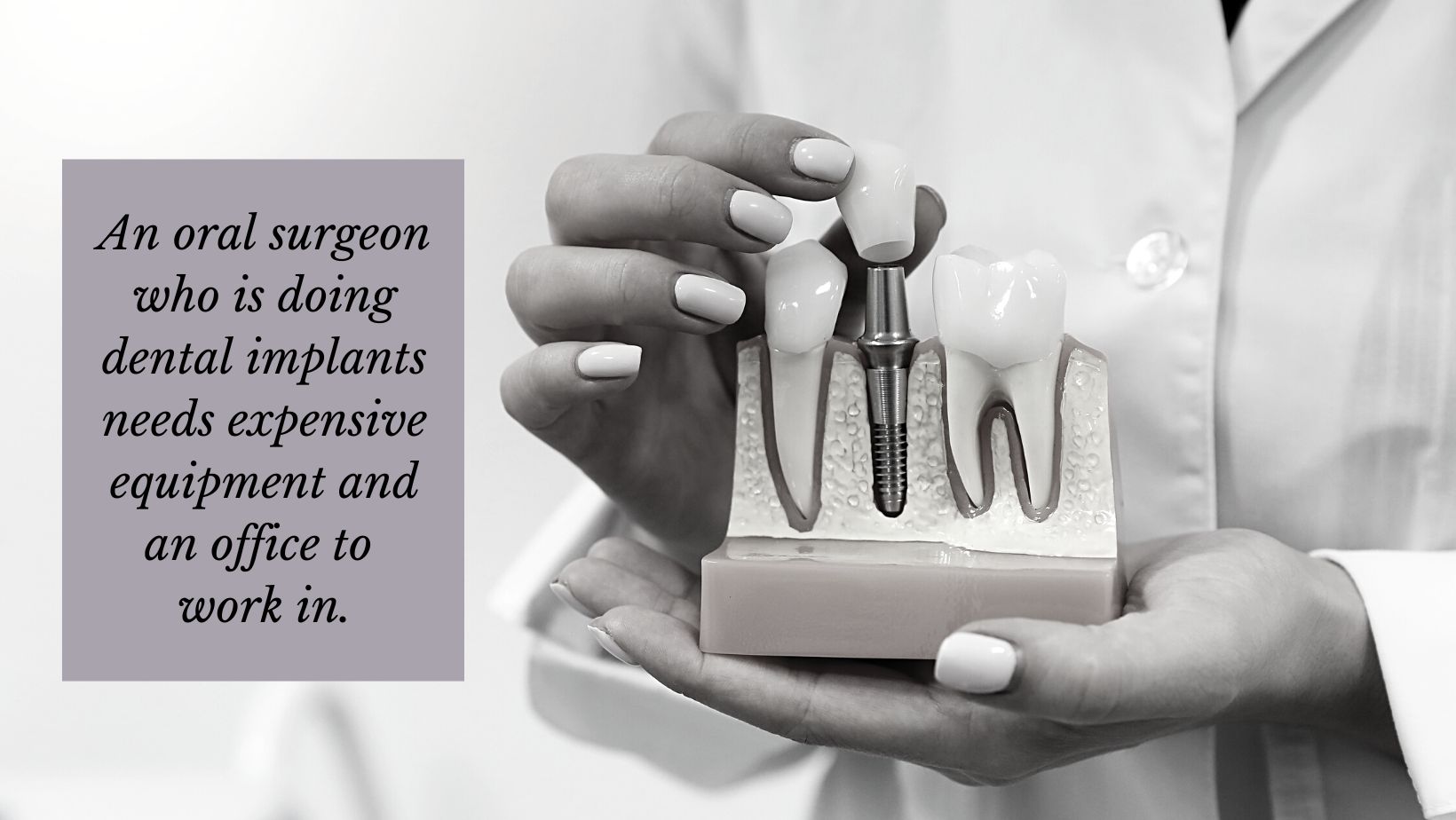 Demand for Dental Implants
Just as operating costs are greater in high-priced urban areas, so is the demand for dental implants. It makes sense: the greater the population and levels of disposable income, the more people will seek out things like cosmetic dentistry. Large city centers, especially on either coast, will have the greatest concentration of oral surgeons doing procedures like dental implants. A patient can save a considerable amount of money going to a place where the demand is not quite so high.
How Traveling for Implants Works
Traveling someplace where dental implants cost less eliminates the need to wait until they're cheaper. And as we've already discussed, any price drops will be minimal, if they happen at all. You can, however, get the same expertise and the same materials right now if you can find a place with lower overhead and demand.
ProcAdvisor has compiled a catalog of qualified dental implant providers across the United States and in other countries around the globe. You can search for dental professionals who fit your budget by using our online search tool.
Because these surgeons can do implant surgeries cheaper, they pass the savings on to patients. Even when travel and hotel accommodations are figured into the cost, the overall result can be significantly lower.
For example, ProcAdvisor's current lowest price for a single implant that costs $4800 on the open market, is only $3152. That's a difference of more than $1600! Right now, the average price of roundtrip airfare and hotels in the United States is $920, so the total savings is roughly $700 or 15%. Bridge implants, same-day implants, or all-on-4 implants come at an even greater discount of roughly 30% off the standard cost. Find a destination that's drivable, and you can save on airfare too.
Traveling for dental may sound unusual, but it is becoming increasingly popular as people discover how much they can save. Add to that the fact that you can tack on a few days before or after a procedure and enjoy a mini-vacation in a new destination. Or, combine a visit with friends or family by finding a dental professional in their city.
Don't Wait Until Dental Implants Get Cheaper
It's not a good idea to put off getting a dental implant too long. Missing teeth can create problems that go beyond just a gap in your smile. The longer your tooth is missing, the greater the chance that the surrounding teeth will shift around in your mouth. This can result in trouble chewing and speaking. It can force the teeth out of their proper alignment. When dental issues aren't addressed in a timely manner, they often end up causing more pain and costing more money to fix them.
There is no way to predict exactly what will happen to the cost of dental implants. Prices could rise just as easily as fall in the future. There's no reason to wait for a drop in dental implant prices when you can find them for less somewhere outside your hometown.
Contact us today to find out about places you can visit to take advantage of ProAdvisor's best dental implant prices.