If your child is ready for their first visit to the dentist, or if they have a dental emergency, you may be wondering about the best type of professional to treat him or her. Is it necessary to take your kid to a pediatric dentist, or can you bring them to your current dentist?
Some children will do just fine with a regular dentist, while others will benefit more from a dental practice that is more "kid-focused." Here, we'll explain some of the ins and outs of visiting a pediatric dentist and what makes them different from non-specialty dentists.
What Does a Pediatric Dentist Do?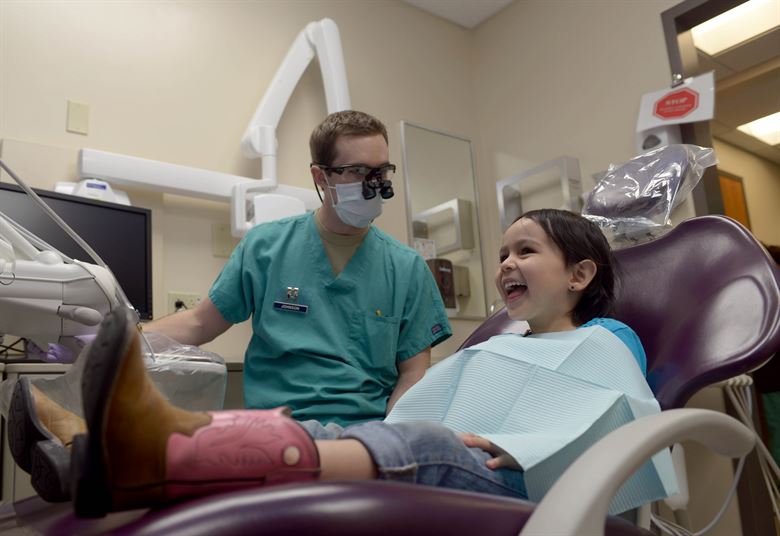 A pediatric dentist, as the name implies, specializes in treating children. Like all dentists, they complete a four-year undergraduate degree, followed by four years of dental school. After that, however, their education continues with two or three years of additional specialty training focused solely on children.
Pediatric dentists are capable of serving people of all ages, but choose to see only young patients. They offer treatment to all children, from toddlers through teenagers, usually up until age 18. Some even specialize in children who have special healthcare needs or who are on the autism spectrum.
Some of the services a pediatric dentist provides are the same as any other dentist. These include regular dental exams, preventive care like cleanings and fluoride treatments, filling cavities, and repair of dental injuries.
Added to their list of services are things that specifically apply to the growth and proper dental development of their pediatric patients. They help parents with recommendations on diet and nutrition, and advice about pacifiers and thumb-sucking.They have experience applying dental sealants for cavity-prone patients. They are on the lookout for dental issues that may be related to other health conditions. Pediatric dentists monitor the loss of baby teeth and the growth of permanent teeth and can identify potential orthodontic issues and can make a referral to an orthodontist for further follow-up.
How is a Pediatric Dentist Different from a Typical Dentist?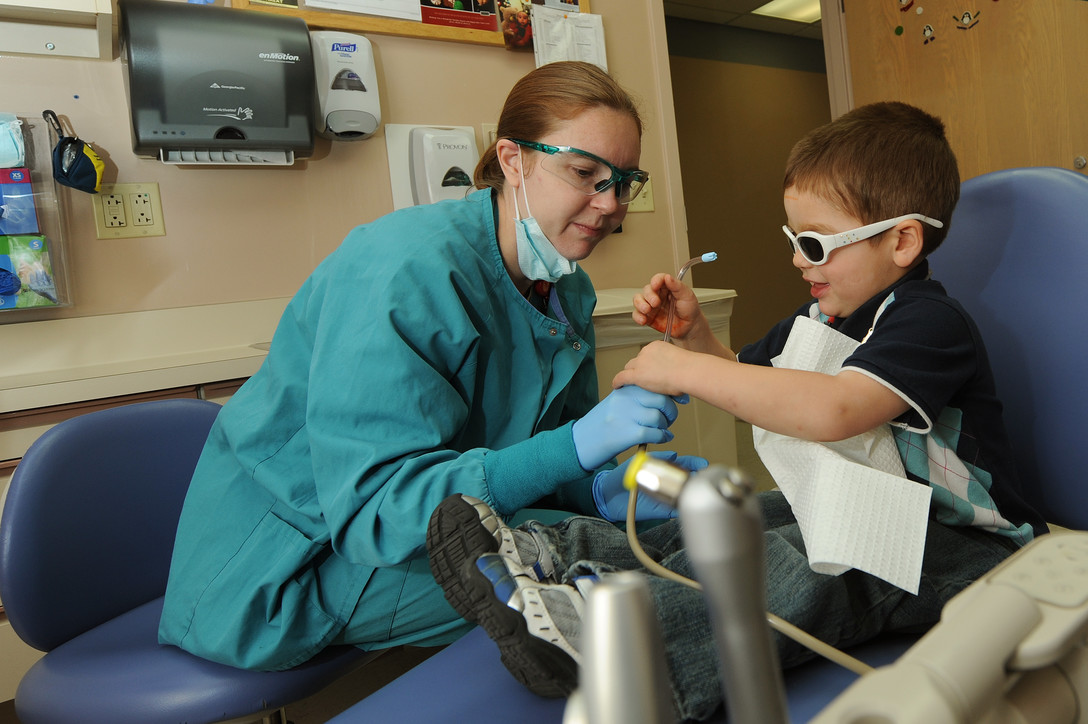 Aside from the extra schooling and specialization, a dentist that treats kids will most likely have a much more kid-friendly office. Some dentists prefer that their patients be at least three or four years old. But the American Dental Association recommends that the first checkup should be by their first birthday or within six months of their first tooth, whichever comes first. Pediatric dentists are equipped for visits at such a young age.
Visiting a dentist's office can be an unfamiliar and possibly scary thing for a child. Because pediatric dentists work with kids all day long, they're pretty experienced at putting them at ease and making sure a checkup or treatment is a fun and positive experience for the child. Think bright colors, toys, and books in the waiting area, and plenty of kid-sized equipment necessary for treating little mouths. They also know how to make the experience engaging, and will go out of their way to do so.
Additionally, pediatric dentists are trained to recognize problems that don't generally affect adult teeth, such as dental developmental issues, and root canals on new adult teeth that are not yet fully formed. They also have the option of doing postgraduate training in children's hospitals for even further specialization and experience, and they usually place particular emphasis on age-appropriate communication and winning the trust of parents. For example, if your 4-year-old needs a dental procedure but is crying and won't sit still, chances are that a pediatric dentist has been there and done that hundreds of times before. They know what to do and say to get your kid to sit calmly while they work.
Choosing a Pediatric Dentist
Choosing a pediatric dentist is much like choosing any other dentist or medical professional for your child. We recommend starting with our dentist finder tool to locate a dentist near you.
In addition to this tool, we have found that referrals from people you know and trust are also a good way to decide who to see. Ask your friends, neighbors, family members, or coworkers which pediatric dentist they take their child to. What do they like about him or her? Are the staff helpful and polite? Is the office kid-friendly? Do the dentist and staff engage with your child in a friendly and positive manner? All of these questions will help you determine which dentist to choose. You can also schedule a visit to the office of a dentist you are considering, to see whether they might be a good fit for your child and you.
Pediatric Dentist or General Family Dentist?
Some general dentists have basic training in pediatric dentistry and will advertise themselves as a "family dentist." They typically accept patients of any age. Although family dentistry is not a recognized subfield by itself, many family dentists have the talent and experience to work with children, too.
Deciding whether to take your child to a pediatric dentist or a family dentist is ultimately up to you, based on your child's needs. Here are some of the things that should factor into your decision:
Specialization. How important is it to you that your child sees a dentist that specializes in children, rather than one who treats children but does not make it their sole focus? As we discussed, a pediatric dentist makes creating a kid-friendly space a top priority. Because pediatric dentistry is a specialty, prices may be higher than a regular dentist. Ask about the cost of treatment and insurance coverage.
Convenience. If you or another family member is already seeing a dentist who treats both children and adults, the convenience factor of being able to take everyone in the family to the same dentist may play a role in your decision.
Continuity. With a pediatric dentist, your child will eventually age out of their practice and will need to switch to a general dentist at around age 18. With a general dentist, however, your child can continue seeing the same practitioner for many years.
Every parent wants what's best for their child. Whether they choose a pediatric specialist or a family dentist for their kids, the most important thing is to protect their dental health. Teaching good oral hygiene habits of regular brushing and flossing will start them out with the basics. Finding a dental professional whom they like and trust will help them keep their teeth healthy for years to come.